The EDA's 4th Annual Digitalisation Forum and Digitalisation Awards is an excellent opportunity for EDA members to get up to speed with the developments in digitalisation and how it will benefit their business. This year, ETIM International will attend with multiple board members as well as their two executive directors. What's more, they will take to the stage to share and exchange ideas and knowledge with members of the Electrical Distributors' Association in the United Kingdom.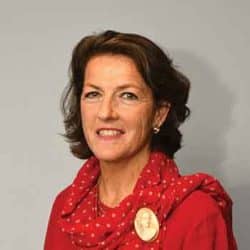 On December 1st, ETIM International's two executive directors will address the Forum at the America Square Conference Centre, London. Not without good reason, as EDA CEO Margaret Fitzsimons stated on their website: "High quality, unambiguous, consistent and complete – good data is the golden thread of commerce. ETIM has been a key pillar of the EDA's work since we took the strategic decision to introduce the ETIM data model to the UK's electrotechnical sector in March 2017." (source: https://www.eda.org.uk/etim-edata/etim-in-the-uk/).
ETIM Past, Present and Future
Marc Habets, Technical Director of ETIM International, will kick off with a presentation about the general state of the ETIM standard. Looking back on 30 years of work, he will tell the story of how ETIM grew from a project within a Dutch installers' organisation back in the early nineties to the internationally widely adopted standard it is today.
Jeroen van der Holst, Community Director of ETIM International, will subsequently be discussing ETIM Modelling Classes (ETIM MC) as instrumental to standardising parametric models used in 3D Building Information Modelling. "Any virtual construction of a building depends on content supplied by manufacturers. ETIM Modelling Classes have a huge potential to simplify the dataflow from manufacturers to BIM modellers, laying the fundament for further optimisations and cost reductions in the digital transition of construction projects.", he explains.
To round up the segment, all attending ETIM board members will take to the stage as forum guests are invited to participate in a plenary Q&A session.
About ETIM International and the ETIM standardisation model
ETIM is a format to share and exchange product data based on taxonomic identification. This widely used classification standard for technical products was developed to structure the information flow between B2B professionals.
ETIM International is a Brussels-based non-profit organisation. We represent ETIM organisations all over the world and centrally manage the development, maintenance, publishing and promotion of the ETIM classification model to effectively pursue our members' shared objective: a sustainable classification standard for all technical products worldwide.
About the Electrical Distributors' Association (EDA)
Founded in 1914, the EDA is the trade association for electrical wholesale distributors in the UK. Wholesale distributors are the essential link between manufacturers of electrotechnical products and the electricians and electrical contractors who install them. The EDA supports and represents UK wholesalers, that join as Members, with Affiliated Membership open to manufacturers, solution providers and service providers. (source: eda.org.uk)
 Useful links